Outdoor Attractions
Regardless if you are going on a family trip or "road-tripping" with a few of your friends there is a great selection of outdoor attractions throughout the state. We have compiled a list of some outdoor attractions you definitely need to check out if you are in the area.
State Parks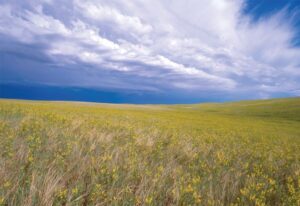 One thing about South Dakota is there is an excellent state park system spread out throughout the state. They provide travelers with some of the most breathtaking scenery, rich history, and fantastic water and winter recreation opportunities in the United States. They offer a great opportunity for boating, fishing, hiking & many other outdoor activities. Some of the more popular state parks in the state are: Custer State Park, Bear Butte State Park, Oahe, Lewis & Clark and Roy Lake.
Mount Rushmore
South Dakota's top tourist attraction, the Mount Rushmore National Memorial, draws more than three million people each year. Located near the city of Keystone, the sculpture commemorates the first 150 years of American history. The majestic granite sculpture of Mount Rushmore commemorates four powerful presidents who helped shape our nation: George Washington, Thomas Jefferson, Theodore Roosevelt, and Abraham Lincoln. Visitors of Mount Rushmore are awed by this majestic memorial and are touched by this symbol of our nation's freedom.
Badlands National Park
The breathtaking natural formations that make up the Badlands National Park offer 244,000 acres of dramatic gorges, towering peaks, and rolling prairies. They may look foreboding at first glance, but many herald the unique beauty, ancient fossils, and otherworldly atmosphere found in the Badlands. Visitors to The Badlands National Park are also in close proximity to other popular parks and monuments. Mount Rushmore National Memorial, Custer State Park, and Jewel Cave National Monument are all within brief driving distance of The Badlands National Park.
Black Hills National Forest
The Black Hills National Forest comprises a vast area of 1.2 million South Dakotan acres, affording nature enthusiasts a virtually limitless outdoor playground. The rugged terrain, challenging inclines, old logging trails, and quick switch-backs make it a haven for the adventure-seeking mountain biker. It is also home to Mount Rushmore and many of the other states top attractions.
Rushmore Cave
At Rushmore Cave you will find fun on every level. Whether you are soaring through the sky on the new Soaring Eagle Zipline or exploring underground in the stalactite-filled caverns on a fun and educational Cave Tour, you are sure to have a great time, full of affordable family fun and great vacation memories. Rushmore Cave is the closest cave to Mount Rushmore and home of the legendary "Big" room. This room – layered with extraordinarily large number of stalactites dangling from its ceilings and walls – is one of the largest decorated cavern rooms seen on any area cave tour.
Scenic Byways
The abundance of State and National Parks, memorials, rich history, and magnificent, unspoiled scenery make South Dakota an excellent choice for travelers wishing to build lifetime memories. South Dakota's Scenic Byways transform windshields into theatres as miles of pavement provide spectacular views of the surrounding scenery. Traveling the Scenic Byways of South Dakota will make getting to your destination half the fun. Ignore your GPS, sit back, and enjoy the ride.
Crazy Horse Memorial
The world's largest mountain sculpture, Crazy Horse Memorial, is located in the Black Hills of South Dakota near the town of Custer. The magnitude of this memorial rivals the significant accomplishments of Crazy Horse, a legendary Lakota leader. Crazy Horse is only 17 miles from Mount Rushmore so it's a quick drive between the two.
Golfing
South Dakota offers an abundance of fantastic golf courses located throughout the state. Whether you are traveling the western, central or eastern part of the state there are plenty of courses to choose from.
1880 Train
Perhaps the most authentic way to experience the majestic beauty of western South Dakota's Black Hills, the 1880 Train is a fully functioning, antique steam locomotive. Children and adults will enjoy the train's steam-puffing engines and long, low whistle.
Flinstones Bedrock City of Custer
Bedrock comes alive in this Stone-Age Park of funfilled buildings and play areas. Tour Fred's Bedrock City. Ride the Flintmobile and the "Iron Horse" Train. See the Rockin' Flintstone Trio Show, Mt. Rockmore and the Rockmore Theatre. Then romp on the playground's Slide-asaurus.
Harney Peak
The word "Hills" in the phrase "Black Hills" is a major misnomer. From atop Harney Peak, that point is abundantly clear.